Strait of Belle Isle Ferry Service
Labrador is linked to the Island of Newfoundland via the Strait of Belle Isle ferry service. The ferry, the Qajaq W, travels between St. Barbe, Newfoundland, and Blanc Sablon, Quebec. Blanc Sablon is just a few minutes by road from L'Anse au Clair.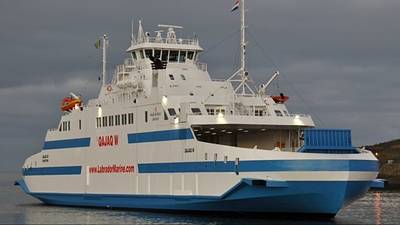 Some key points about the ferry service:
This is a drive-on, drive-off service, and the crossing takes about 1.5 hours.
You need to check-in at the ferry terminal one hour before departure time.
Reservations are strongly recommended, and must be made at least 24 hours prior to departure time.
Visit Labrador Marine Inc for further information, including schedules, vessel tracking and online reservations.
Trans Labrador Highway
The Trans Labrador Highway is a driving route along the southeastern Labrador coast (route 510) and across the central interior of Labrador (route 500). Route 500 links to route 389 in neighbouring Quebec.
Much of the Trans Labrador Highway is now paved. Work to complete paving on all sections is ongoing.
You can read more about the Highway on this Wikipedia page.