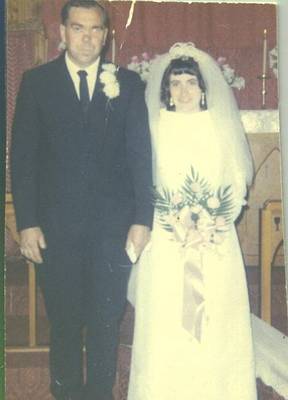 A Community Voices story by Sharon Jones.
July 14, 1969 was the day my dad remarried. It was in the old church that is now the visitor centre in Lanse au Clair. I can remember what we wore... me and my sister Eileen wore yellow dresses and white sweaters. I'm thinking that my Aunt Martha made these dresses. They were made of cotton. My brother Steward, who was seven years old, wore a white shirt and beige pants and tie. My baby brother, Junior wore a bright blue suit.
My mom Nancy Edmunds had passed away on May 16, 1966. I was six, my brother Steward was four, Eileen was three, and my baby sister Sheila was 14 months old when our mom died. Our dad was working with the town of Happy Valley Goose Bay. Dad took us back here to Lanse au Clair, his hometown, where his family was living. My Grandmother Mary Dumaresq, dad's mom, took me and my brother Steward. Dad's sister, Martha Jones, took my sister Eileen. Dad's youngest sister Evelyn (Drover) Batten took Sheila. After dad got us 'situated' with these relatives he had to return to Goose Bay to work. Dad came back here with us on Christmas holidays... when school got out dad came and got us for the summer.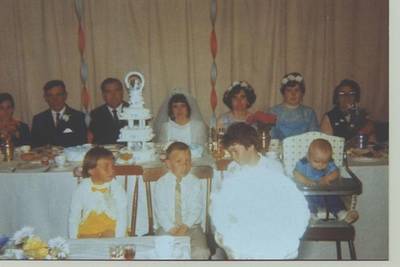 On July 14th my step mom Sarah took us into her life. She was just nineteen years old, and now a mother of five children. She and my dad had one child together, Junior. He was only six months old when they married. My dad was very lucky the second time around because she was an exceptional mother to us. Dad prayed for an angel ,and God sent one to take care of his children. They had a very loving relationship for over 35 years until my father passed away on November 26, 2004. I couldn't have asked for a better mom.
In this wedding photo there is one person missing... my baby sister Sheila. She came back with us a couple of months later. We were all together as a very close and happy family.Those family ties can never be broken.