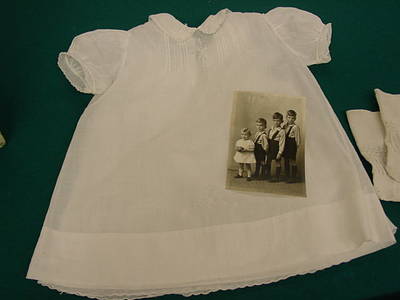 A Community Voices story by Marilyn Dumaresq.
I wore this dress and slip the year I was turning two. They are made of a very thin sheer cotton white material. The dress has a bit of white embroidery on the collar and on the front at the top and at the bottom. The slip also has a bit of embroidery at the top and its edges are scalloped as is the collar of the dress.
I had no idea that my mother had kept this dress and slip until my brothers and I were clearing out her house in June of 2005 and found it in her cedar chest. They were probably my "dress up" clothes and that is why they are in such good condition. Mom, no doubt, was keeping them hoping for another little girl but this didn't happen. Another little boy arrived instead.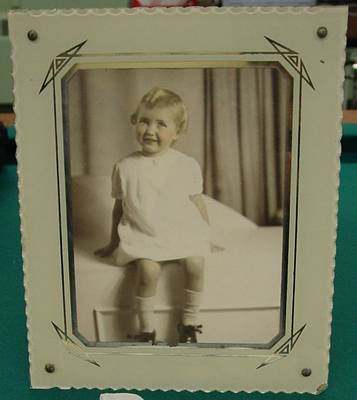 There is a photograph of me wearing this dress as well as a smaller photograph of my three older brothers and me taken at the same time. The embroidery on the dress is not plainly seen in the large photo but is quite plain in the smaller one. The fact that I have photographs of myself wearing this dress makes it even more special for me.
A 24 inch doll belonging to my daughter Tanya now wears this dress and slip and stands in my living room by the side table on which is displayed the photo of me in its original glass frame.