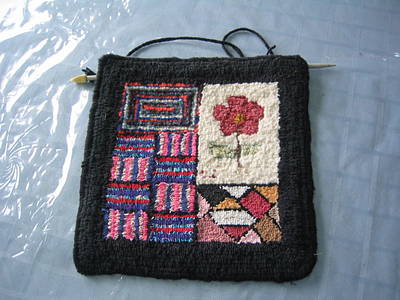 A Community Voices story by Lorena (Letto) Clarke.
Mats have been around for a long time, people used them to decorate floors or to wipe their boots into. The two types of mats that I have to show you are hooked mats and poked mats. Both types are very common in Newfoundland and Labrador. Poked mats are easy to make and were very popular in our area, but have been replaced by store bought mats. Most homes had at least one poked mat by the front door.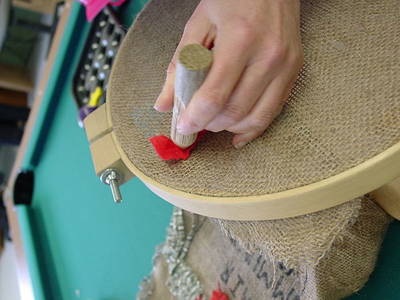 To make a poked mat you need a piece of brin (burlap) and a mat frame, some fabric strips and a pointy stick (poker).
To start, you stretch the brin in the mat frame, cut fabric into strips of a half of an inch by two inches. Now you poke both ends of the fabric into the brin so that all you see is a little piece of fabric on the back. You continue this process until all your brin is filled in.
When you turn it over you will have a very thick and fluffy mat. You will have to hem in any excess brin and then you could use it.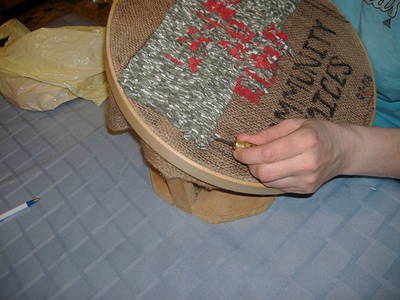 Hooked mats are more complicated, but much of the same equipment is needed. A piece of brin, a mat frame, fabric strips, and a mat hook instead of a pointy stick. To start, you again have to stretch the brin into the mat frame. Cut your fabric into strips of a quarter of an inch in width and you can have your fabric any length you like. Put your fabric in under the brin and hook up the end to the top of the mat frame. Then you place your hook into the next hole in the brin and bring up the fabric into a loop.
Continue this process until you come to the end of the fabric, then pull the end to the top. This process continues until your mat is full. You use a small pair of scissors and tidy up any loose ends. Press out with a damp towel then sew in any excess brin and enjoy your mat.
The video below shows the mat hooking technique. Video by Alana Clarke.