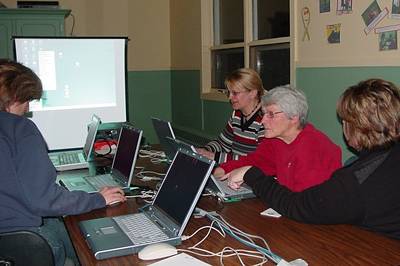 Community Voices is a collection of webpages created in 2008 by seven women from L'Anse au Clair. The women came together to learn how to use a computer at the town's CAP Site. They wrote personal stories about family memories, and learned about computer technology by typing them up, scanning photos to add to the stories and uploading them to the website.
Partners in Learning provided help with story writing and editing as well as learning new skills. SmartLabrador provided us with an easy-to-use system to develop our webpages once we learned some basic computer skills.
Further information about these project partners is below.
Project Partners
NL Community Access Program (CAP)
Funding for this project was provided by the Community Access Program, Newfoundland and Labrador. The Community Access Program was developed by Industry Canada to assist communities in rural and remote settings to obtain affordable public access to the Internet and the skills to use it effectively. For the past 10 years federal and provincial governments have partnered to offer the Community Access Program Newfoundland and Labrador in 170 CAP sites in the province.
Town of L'Anse au Clair
The Town of L'Anse au Clair, Newfoundland and Labrador provides space for the community's CAP site and is a partner in the development of the Community Voices webpages. These webpages was planned to be ready for the L'Anse au Clair Come Home Year in 2008.
SmartLabrador
SmartLabrador, a Labrador IT Initiative, provided equipment and technical support to the project. The project was based on an earlier CAP project offered at the Forteau Telecentre, called Women's Voices. SmartLabrador developed the proposal, concept and training workplan in partnership with Partners in Learning, using lessons learned from the Smart Community Demonstration Project. That project provided Community Voices with a format for computer training and content development that enabled the participants to create these webpages.
Partners in Learning
Partners in Learning, a regional literacy organization, provided assistance to the class in developing their stories. This was part of an ongoing project which aimed to involve local adults in collecting stories and local knowledge. At the community voices sessions participants were given strategies to begin the writing process and were supported throughout the process. The concept of a participatory approach to learning was adopted by SmartLabrador and Partners in Learning when they initially collaborated on the Women's Voices project in 2005. This approach allows for participants to share decisions on what is to be learned and how it is to be learned.