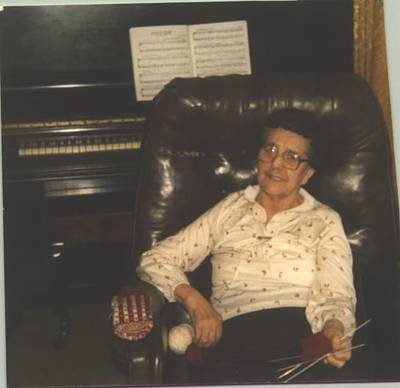 A Community Voices story by Sharon Jones.
These three items were given to me after my grandmother passed away. Her name is Mary A. Dumaresq. Her birthday was September 14, 1903 and she passed away May 17, 1985. She was a very special lady.
The reason why the mug and the ring was given to me was because our birthdays were in the same month, September. The mat hooks were at my moms. She gave them to me and said take care of them. As you can all imagine they are very old and have special meaning to me. I watched her hook mats a good many times.
She was a lady who worked hard in her life, from cooking to cleaning. She also made time for sewing and knitting. Her daily routine was from Monday to Saturday but Sunday was a day of rest. I will never forget the day she taught me how to knit; she sat me on the table with wool and needles.
I saw her make cakes on weekends with whatever she had in her cupboards. Whatever she made was from raw ingredients... no such thing as sending us to the store for a certain item. She would make molasses candy and I helped her stretch it. That was considered a treat.
My brother and I were given chores. The one I dreaded most was when I had to get eggs in the henhouse. I could remember walking in the henhouse, there were feathers everywhere. The smell was unbearable... I would hold my nose and grab the eggs with the other hand.