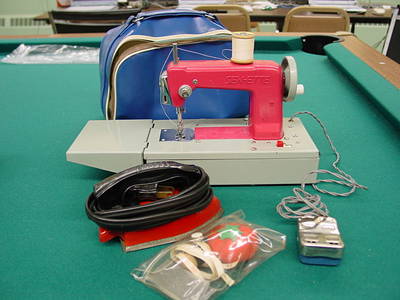 A Community Voices story by Loretta (Letto) Griffin.
It was an unexpected Christmas gift when I was nine years old. The toy sewing machine, "sew-ette", was made in Japan in the early 1960's. It operates on two size "D" batteries. The color of the sewing machine is a gray base and the top is a deep pink. You can turn the machine on or off by using the attached foot pedal or a switch on the base of the machine. On top of the sewing machine is a wooden spool with white thread that is set up to begin working. There is an "Eaton" label on the wooden spool with the cost of the thread also marked on as 13 cents. It is 12" in length and the height is 6". It has an attachment on the base to place to place the sewing material. This can be removed for storage in the blue vinyl, zippered case that came with the machine.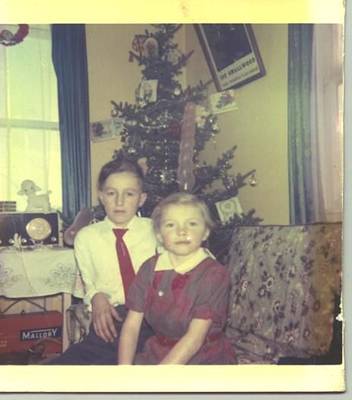 The gift was purchased by my mom from the Eaton's catalogue. As the youngest child of a family of eight, I had lots of help with cutting out patterns for my doll's clothes and sewing them on my new sewing machine. As I am trying to describe this toy, the scene playing in my mind is sewing by lamplight with the smell of the wood stove and the teasing and joking of my older brothers as they examine the dress I have made for my doll.
As well as a toy that provided hours of quiet activity, the skill of sewing was a necessary one for women in the small Community of L'Anse au Clair in the 1960's. The women made a lot of things for the family and home, sewing quilts, aprons, clothes, altering and mending.
Unfortunately, my creativity for designing and making things was very limited. The interest in sewing was gone entirely as I grew up; and, any clothing that needed altering or mending was brought to my mother.