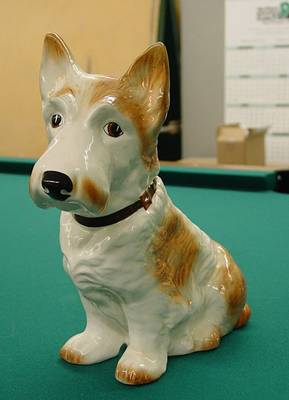 A Community Voices story by Pat Jones.
Back in the early 1950's this ceramic dog was given to my mother Violet Letto by her father William Butt. I estimate it to be early 1900's because my grandfather owned it a few years prior to that.
This shiny ornamental dog resembles a terrier with its white coat and gold color spots.
My mother treasured this dog ornament probably because of the sentimental value and also because there was a scarcity of decorative objects to display in homes back then.
The dog always sat on a white lace doily in the middle of a round coffee table that was handmade by my grandfather Butt. This centerpiece truly gave our living room its sparkle.
My grandfather came to live with my mother about 1954. He passed away in 1957, before I was born.
Growing up the youngest in a family of one older sister and four rambunctious brothers, who would play/wrestle on a regular basis, this precious dog, needless to say was in jeopardy many times. When this behaviour began my mom was known many times to tuck the dog under her arm and run for safety, all the while afraid her boys would hurt themselves. How the boys or the dog escaped without scars is a miracle.
I am now the owner of this lucky dog. My mom gave it to me in early 2000. I hope I can protect it like she did, so I can pass this antique dog and its known history on to one of my children.